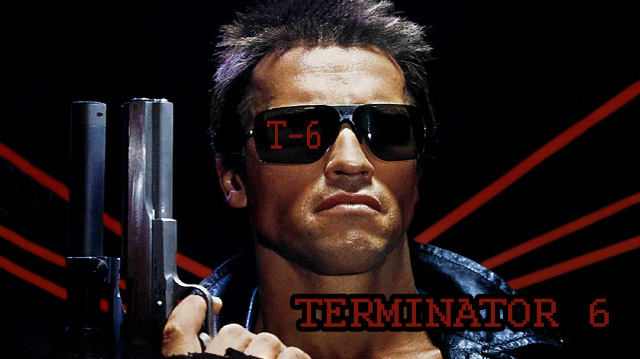 "I'll be back" and he is! Arnold Schwarzenegger will be starring in this latest installment of Terminator.
And he is not the only veteran cast member that will be returning.  Linda Hamilton aka Sarah Connor will also be appearing in the movie after 25 years away from the franchise.  In addition to the two returning cast members, James Cameron has also signed on as executive producer!  In the director's seat though is Tim Miller (the director that made Deadpool)
Also announced is that actors Natalia Reyes (Cumbia Ninja), Mackenzie Davis (Blade Runner 2049) and Gabriel Luna (Agents of Shield) will be joining the veteran, with Gabriel Luna set for the role of the Terminator.
What we know about the movie so far is that it will be a direct sequel to the Terminator 2: Judgement Day and the story will ignore all Terminator movies that followed it (including the recent movie Terminator: Genisys). Linda Hamilton will reprise her role as Sarah Connor and Schwarzenegger is rumored to be the human template for the T-800 Terminator!
After several mediocre Terminator movies (which were all quite enjoyable), will this cast and veteran team make this the next blockbuster hit for the franchise?  This writer hopes so.  The Terminator storyline has been a sci fi pop culture favorite with fans since its first release in 1984.  However fans have not been all to pleased with the sequels…part of the problem – the original theme of the Terminator 1 & 2 movies (No fate but what we make) was not carried forward in any of the sequels.
Believe it or not, what made the first two Terminator movies great were not about a futuristic cybernetic organism (covered in living flesh) returning to the past trying to kill the Connors (that was the bonus).  The movie was about how it was possible that one can change the future.  Hence the statement "The future is not set. There is no fate but what we make."  This in my opinion is why most of the sequels did not resonate strongly with fans.  I'm optimistic now that the original writer (James Cameron) produced  the script and storyline.  Hopefully Cameron will not disappoint.
The film is still currently untitled and the release date has been changed from July 2019 to November 2019….