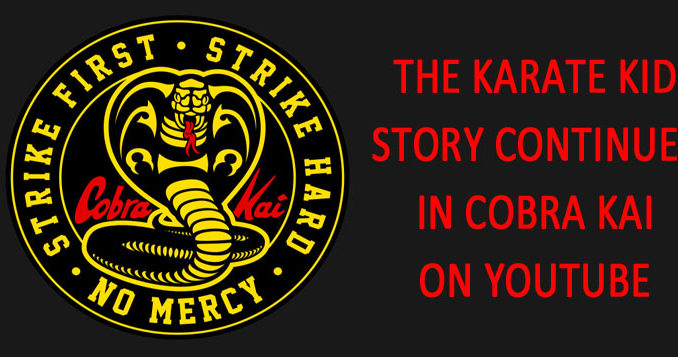 This 10-episode revival of our beloved cult favorite Karate Kid is a sequel that is a must watch for fans.  Each episode is a half-hour and it revolves around the rivalry between Daniel LaRusso (Ralph Macchio) and Johnny Lawerence (William Zabka). Truth be told, it took me a while to find the time to watch this sequel.  Probably because I loved all the Karate Kid movies that came out (including the reboot with Jackie Chan) and was afraid that this sequel might tarnish those good thoughts.  This however was not the case.
Set some thirty-four years later, where Daniel LaRusso is a successful car dealer and Johnny Lawrence is a struggling handyman, the two have personal issues that need to be addressed.  How they deal with those issues is the main theme of the show.
Daniel has a good life, but has been unable to find balance with his life especially since he lost his sensi Mr. Miyagi (Pat Morita).  Johnny on the other hand has a string of bad luck and is living off his step-father.   Both of their life paths can be traced back to the All-Valley Karate tournament where Daniel had beaten Johnny with the famous crane kick.
When Johnny ends up saving his neighbor's son Miguel (Xolo Mariduena) from a bunch of bullies, he decides to resurrect the one good thing he had in his life – the Cobra Kai Dojo.  He then trains Miguel (Xolo Mariduena) in the ways of Cobra Kai.  Using the philosophy he himself learned (Strike first, Strike Hard, No Mercy).
Now you would think with me telling all this that it would spoil the rest of the season.  However, that is not the case.  The intriguing thing about the show is that Cobra Kai is actually a very good.  The writers and producers have done a great job with each episode of the first season that it keeps you so tuned in that you may have the desire to binge watch.
For fans of the original movies, you won't be disappointed.  Cobra Kai has much to offer and is very entertaining.  Available on YouTube, the first two episodes are free with the remaining eight episodes available at a premium.