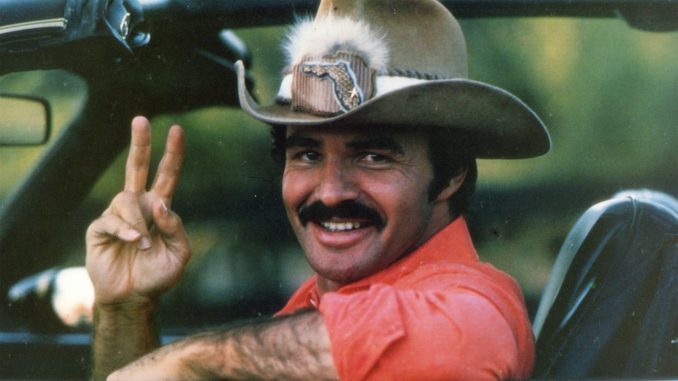 Hollywood icon and pop culture star Burt Reynolds died today (Sep 6, 2018) in Flordia of cardiac arrest.  This was confirmed by his agent.
Burt Reynolds was 82.
A pop culture sex symbol of the 1970 and 1980s, he ruled the box office sporting his trademarked mustache.
For those of you that might not be familiar with Burt Reynolds, he starred in movie his like Smokey and the Bandit, Boogie Nights, and Cannonball Run (just to name a few).
Born February 11, 1936 in Michigan, Burt Reynolds was a Florida State University football player.
In his early twenties, he decided to pursue an acting career in film and TV.  One of his most memorable stories was when he was fired from the set of Gunsmoke with Clint Eastwood. The director had told Eastwood his neck was too skinny so his adam's apple stood out and that Reynolds could not act.  Later in the parking lot, Burt told Clint "I don't know what you are going to do, but I'm going to take acting lessons."
His last public appearance was in May 2015 at a pop-culture convention in Philadelphia.  A frail cane wielding actor greeted fans with his trademark wink and smile.